2017 started with a few bumps in our house. I was sick and out of it for about 3 weeks, a few car and house problems and then having to say goodbye to our beloved 14 year old Vizsla and this blogs namesake, Cocoa.
So I am excited to restart 2017 today, February 1.
I started Totally Triangle QAL and have been working on many of the blocks, I went ahead an made several of the blocks ahead of the planned date. Just in case there are other bumps in the road, I will still be on time with my blocks.
So here they are so far.
You can join in over at Mystery Quilter It has been fun and a learning experience for me. These are really my first "official" blocks made.
Then I really wanted to do some mindless quilting, so I took out a layer cake and jolly bar pack in Behind the Scenes by Jen Kingwell.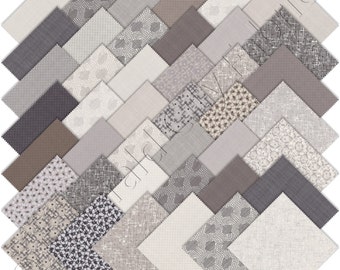 I ended up with a layer cake and a jolly bar pack, because I liked the fabric and didn't remember that I already had some. Oh well, the more the merrier.
So I took my layer cake and cut in half to make 5″ x 10″ pieces. Combined with my jolly bar pack I now had 126 5″ x 10″ pieces.
Then I split them up into two groups, the darker and the lighter pieces.
The plan today is to finish the top. Piece a back and make a sandwich.
Here is to my restart of the New Year.
I'm linking up with
Sew Fresh Quilts Let's Be Social