Welcome to the second week of the 2017 New Quilt Bloggers Blog Hop. It was great fun seeing the first week of bloggers and their stories. Everyone's starts are so different, but still there are many similarities. Let's kick off week number two.
I am Jan, living the retired life in West Michigan.  I am part of Beth's Hive, she is over at Cooking Up Quilts.  Be sure to visit Yvonne  @Quilting Jet Girl and Leanne @She Can Quilt.  There are giveaways at the host sites, so be sure to stop by and visit their Hive mates too.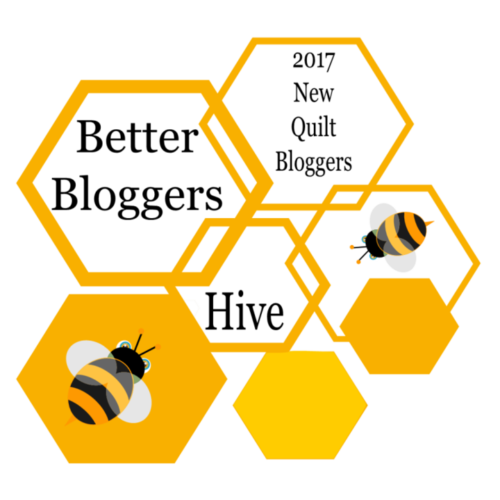 Be sure to visit each of my hive mates.  They are introducing themselves and have been working on updating theirs sites in our process.  I have found this is how quilters do it.  Help each other, have fun and enjoy the process, so hop over to each and check them out.
Sarah @9658 Textiles
Yanika @Finding Myself As An Artist
Vanda @Quilt In Piece
Abbie @Sparkle On
I started quilting in mid 2015 and turned to the internet for lessons, ideas and everything in between for quilting. I started out quick making several basic/easy quilts in that first year.
In 2016 I found the 2016 New Quilt Bloggers Blog Hop. It was so full of information and inspiration. I was the school girl envious of the cool quilting girls. Then 2017 rolls around and posts show up for applications for the 2017 New Quilt Bloggers Blog Hop. I applied and waited. I was just like that school girl, being accepted into the cool girls quilting group, excited for what was ahead. But nervous I wasn't up for the challenge.
I knew I had to make a lot of changes for my blog to be presentable.  I also knew that I wanted to move from blogger to a self hosted site.  Wow, were there a lot of pieces to make that happen.  I have to admit my secret, I didn't do it all myself.  I found a template and a company, https://www.pipdig.co/.  Phil at PipDig did most of the work.  Moving my blog from Blogger to WordPress, adding a new template and working with my host company.  It was great.  There were still pieces for me to do, but it made it so much easier to know that the majority of it would not only be done, but done right.
I originally started a blog when we built our house to keep friends and family near and far up to date, as well as a record for me for future needs of what was where under those walls. If you are just dying to see our house build it is HERE.
Once I started quilting I wanted to do the same. Keep track of what I was doing, plans and progress, but I knew I needed to have a better name. I had a constant companion who was always there for me, whether it was sewing, building, walking, anything she was there. Her name became our name, Cocoa Quilts.  We lost her after 14 years this past January, but here she is: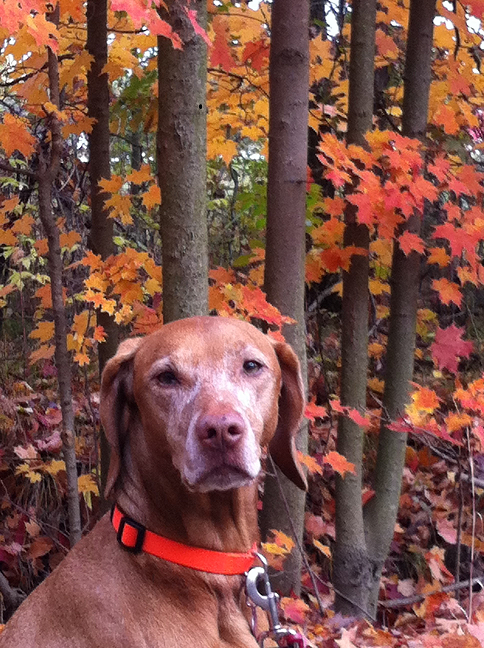 Here are a few of my favorite quilts.  You can see I haven't strayed too far from basic/simple. I love precuts and bundles, that way I don't have to be creative with fabric selection. which is not my strong suit. Here are a few of my favorites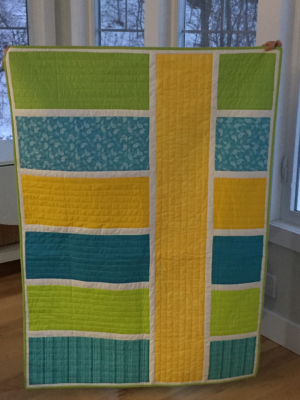 This is my first quilt ever.  I can't believe I picked out the fabrics and used Colorblock by Bijou Lovely for the pattern.  This was before I knew about precuts and collections.  I was so naive.  You can see this quilt HERE.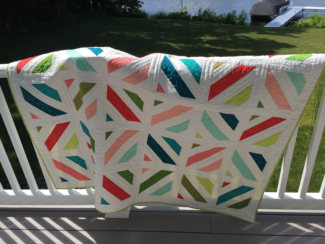 I made this quilt from a kit for my Aunt's 90th Birthday and surprised her with a special delivery in Charleston, SC.  The details for this quilt are HERE.  Don't think I did this quilting, no I sent it out to a longarmer.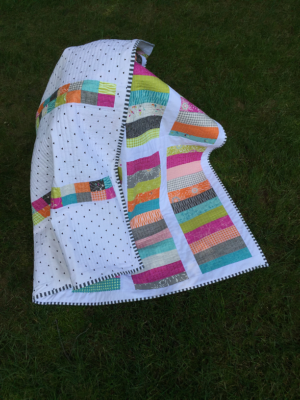 I started this quilt with no pattern and a layer cake of Zen Chic Flow.  You can see the details on this quilt HERE.
Questions – I have a few questions for you.
What one piece of advise can you give to me as a new quilter?
Do you enjoy link up parties?  How many do you think is too many to share on one post?
My Journey
Over the next year I hope to do all, OK maybe most of the following:
Improve my photos
Learn and Practice FMQ
Do more than edge to edge quilting
Continue making charity quilts (you can read my odd story of how I started doing charity quilts)
I hope you'll follow along on my journey.
I am adding to my stash, which is very small.
I plan to build up my scraps so I can make some scrappy quilts.
I will continue in a Quilt Bee, doing charity quilts and swaps.
So follow along on your favorite platform bloglovin, pinterst, facebook, instagram and see what is happening this year.
Don't forget to visit Yvonne @Quilting Jetgirl and Leanne Hands 2 Help for those giveaways.