It is fall, I can't believe this year is passing so fast.  I follow Jessica @craftycop on Instagram.  This was her post on July 5th.
craftycopLONG POST ALERT!
???? I spent most of today thinking about NYPD PO Miosotis Familia who was murdered at work in the Bronx, NYC, last night. How can I help? How can I show her family that more than just police officers care about her being killed and are thinking about and praying for her three children and family.
???? A blue RK block top, of course! And, yes, there is one on its way to being quilted with blocks made by many of you who swapped RK blocks a short while ago.
???? Well, I'm thinking since that top is already spoken for and will be gifted to PO Familia's family, it's time to get working on the next one to have on-hand for the inevitable.
???? So, if you would like to make and send me a block (or two or more!), I'd love that.
???? The four I made took no time at all (and the wonkiness of the bottom left one is proof of that!). I followed @heritage.threads' tutorial for a 12″ (finished) block using a range of blues and low to not-so-low volume inner and outer fabrics. If you didn't swap, Jen's tutorial is very well written and it's almost impossible to mess up a block.
???? If you're on board, please feel free to post your own #blueRKblocks and share this call for blue blocks with your fellow quilters who might not follow me. I promise to be diligent about accepting new follow requests for those who want to make blocks too.
???? If you need my address, please DM me.
???? About when I'll stop collecting blocks, when they stop arriving, that's when. The summer is busy, I know, and this is more about having another quilt or two on hand and ready to gift as opposed to needing a finished one by a certain date.
???? So, thank you for reading and (drumroll please!) who's with me?
Here is the pattern, Blue RK Block.  It is a very quick and easy block.  At this point Jessica has enough blocks for over  50 quilts.  She has helpers all over the country who have volunteered to piece tops, quilt and bind.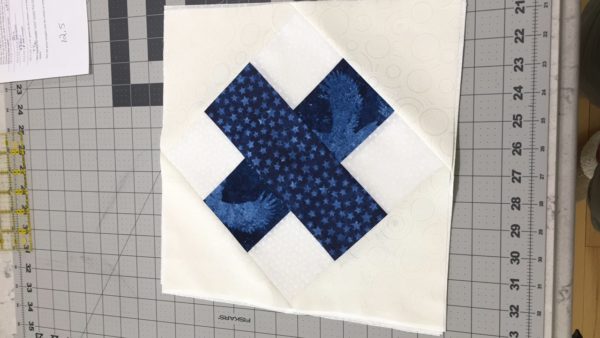 I made several blocks and sent them.  But I decided that my September goal will be to make one block a day.
Elm Street Quilts – OMG September
Confessions of a Fabric Addict – Whoop Whoop