It is finally here and it is starting today..  I watched the Fat Quarter Shop Patchwork QAL for 2017 that benefitted Make a Wish.  Each month the blocks came out and I thought I should have done that QAL.  The block were all so beautiful and seeing them made by such creative quilters that I follow along with all year.
Fast forward to the 2018 charity QAL and I am doing the Fat Quarter Shop – Clementine QAL.  This QAL will benefit St. Jude's Children's Research Hospital.  This is such a great charity that provides so much for so many children in need.  Please join us in 2018.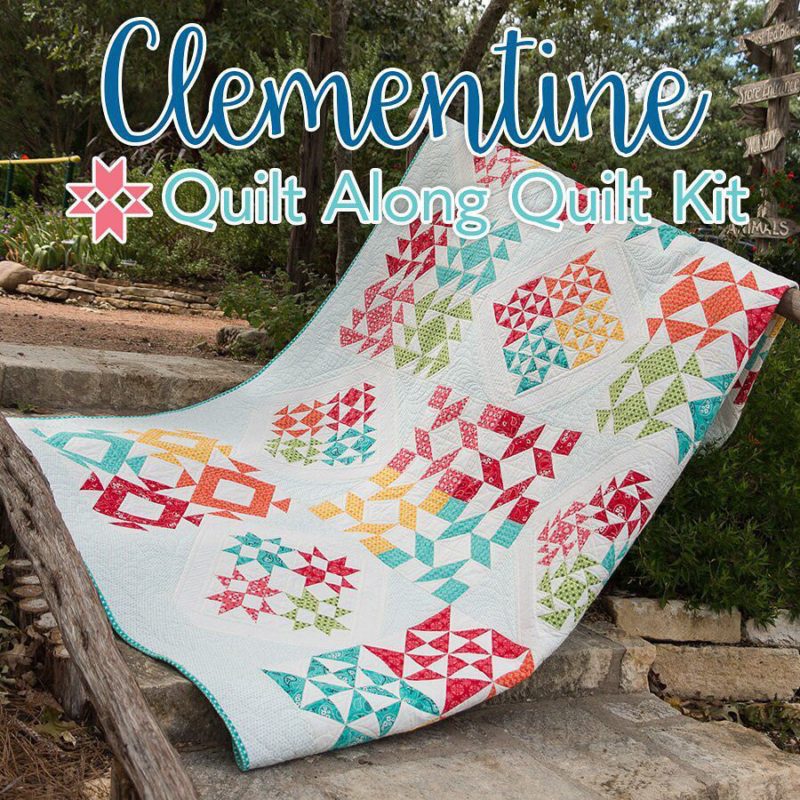 I'll be using the Mama's Cottage by April Rosenthal for Moda. I received my bundle of yumminess on Friday and started getting ready for my first blocks.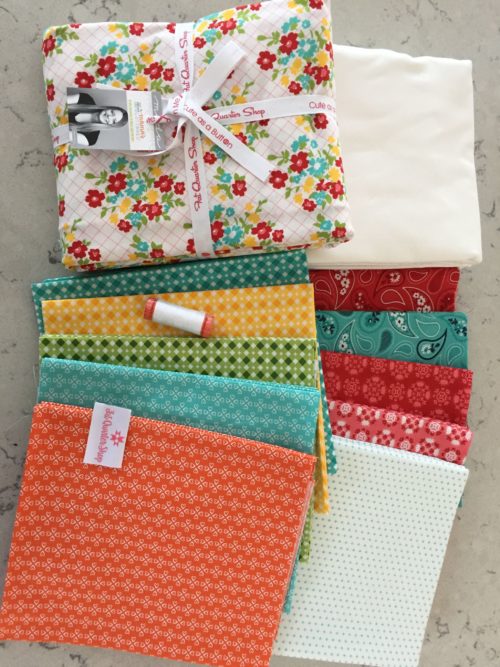 For January we will be making the Watermelon block in two sizes.  Here is the Clementine Block pattern.  I've got my pieces cut.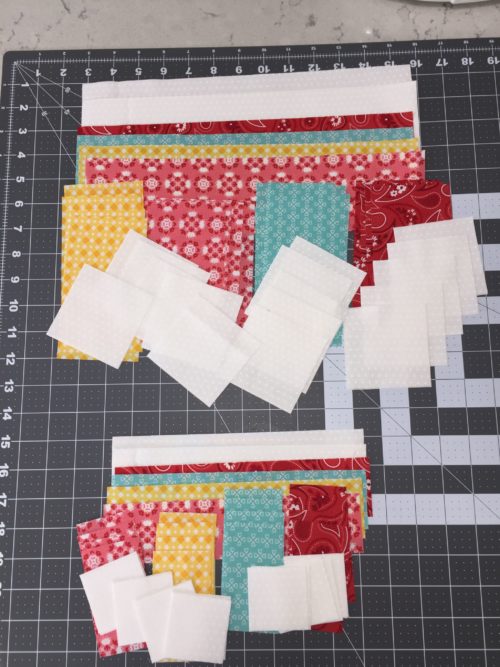 Starting January off right, my two blocks are done, they measure 20 1/2 x 20 12 and 12 1/2 by 12 1/2.  I am ready for February.  Each month we will be making one block in these sizes.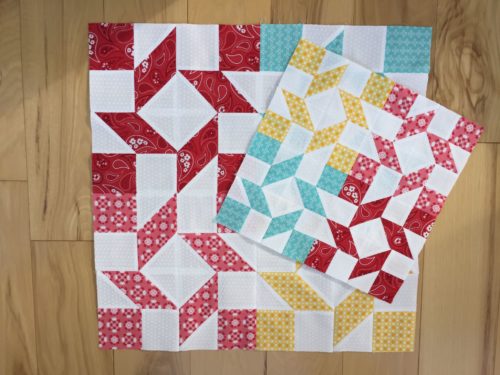 We'll be sharing our  progress and creations on the 2018 Clementine Quilt Along Facebook Group! You can also follow along with the #clementinequiltalong on Instagram.
Several very talented quilters will be quilting along, check out their fabric choices and progress at their links below:
April of April Rosenthal (@amrosenthal)
Bonnie of Sunset Family Living (@sunsetfamilyliving)
Cara of That Crafty Cara (@thatcraftycara)
Carrie of Moda Cutting Table (@modafabrics)
Denise of Pieced Brain (@piecedbrain)
Elise of Elise and Emelie (@eliseandemelie)
Gina of Carpe Quiltin (@gina_tell_carpequiltin)
Heather of A Creative Pursuit (@acreativemama)
Hilary of By Hilary Jordan (@byhilaryjordan)
Jen of Heritage Threads (@heritage.threads)
Joanne of Quilts by Joanne (@turtlequilterjo)
Kairle of Kairle Oaks Handcrafted Goodness (@kairleoaks)
Kendra of Good Starter (@good_starter)
Kristen of 3 in the Nest (@threeinthenestraleigh)
Kristina of Center Street Quilts (@centerstreetquilts)
Leah of Ponderings from My Heart (@ponderingsfrommyheart)
Melanie of A Bit of Scrap Stuff (@mellierc)
Melissa of Happy Quilting (@happyquiltingmc)
Pat of Pat Sloan (@quilterpatsloan)
Pat B. of Life in the Scrapatch (@scrapatches)
Patty of Elm Street Quilts (@elmstreetquilts)
Rebecca of One Wee Bird (@oneweebird)
Sarah of 123 Quilt (@123quilt)
Seema of SSK Craft Shop (@sskcraftshop)
Sherri of A Quilting Life (@aquiltinglife)
Sondra of Out of the Blue Quilts (@sondradavison)
Stephanie of Quilt 'n Party (@quiltnparty)
Tanya of Tanya Quilts in CO (@tanyaquiltsinco)
Teresa of Aurea's Kitchen (@aureaskitchen)
Vickie of Crocheting Vixen (@crochetingvixen)
Go ahead you know you want to join, head on over to Fat Quarter Shop – Clementine QAL.  The Clementine patterns are FREE to download! On the 25th of every month from January to July 2018, the pattern and video of the block for each month. We only ask for a suggested donation of $5 to our St. Jude campaign each time you download our patterns.