I get to Quilt Along with the Fat Quarter Shop – Double 9 Patch.   Back a bit ago, they were looking for quilters for an upcoming project.  I replied and was accepted.  I've said this before, but it feels like when you were a kid and the cool kids asked you to join them.  I feel like a cool kid.
The QAL was for a Double 9 Patch block.  This was a first for me. In the few years I've been quilting, I didn't really do many blocks.  I've challenged myself to do more blocks in 2018, so this is a good start.
I pulled out some scrap Cotton & Steel strips and some white Kona strips and got to cutting and sewing.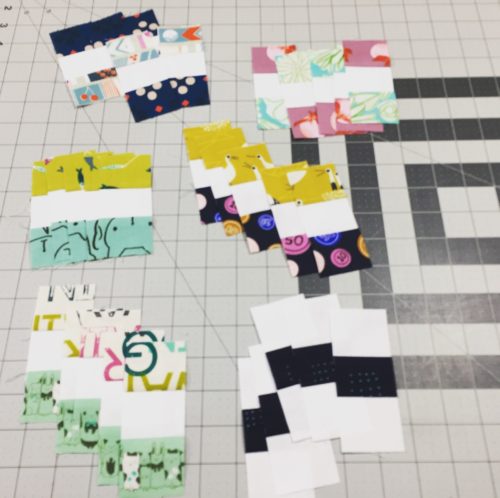 Surprisingly it went together quickly.  Except for a small rip out because I didn't pay enough attention to my nesting seam.
Here is my block  Not bad for a first #double9patchquilt.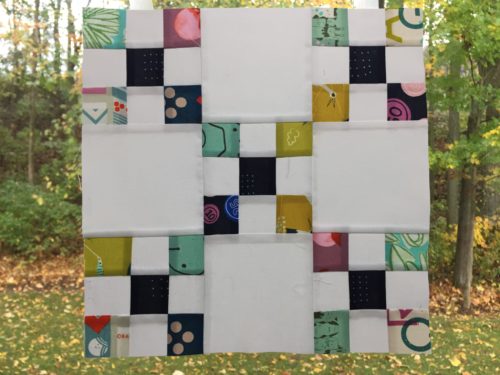 Be sure to visit the other block makers
AJ of Home Place Quilts @homeplacequilts
Angela of A Little Patchwork @alittlepatchwork
Cara of That Crafty Cara @thatcraftycara
Carole of From My Carolina Home
Cynthia of Quilting is More Fun Than Housework @cynthiabrunzdesigns
Denise of Pieced Brain @piecedbrain
Felicia of Fa Quilts @faquilts
Gina of Carpe Quiltin  @gina_tell_carpequilting
Karen of Karen's Sewing Room @karenmaloley
Kim of Lily Patch Quilts @lilypatchquilts
Leanne of Daisy and Jack @daisyandjack
Martina of Quilt Collection @malu27117
Melissa of The Nyfty Crafter  @basketangel1970
Michelle of Creative Blonde  @creativeblonde66
Rebecca of One Wee Bird @oneweebird
Sarah L. of Pirouette Papercraft @sarahboirin
Sarah S of 123 Quilt @123quilt
Seema of SSK Craftshop  @sskcraftshop
Teresa of Aurea's Kitchen @aureaskitchen
Tracie of Riceford Streams @joyfully_tracie
Thanks for stopping by today and hope to see you again soon.
Wishing each of you a happy and healthy 2018.