My top for the Squiggles QAL is complete.  I enjoyed making this top and using an layer cake from my stash of  Basic Mixologie by Moda.  I had eyed that layer cake in the local quilt shop for awhile and finally bought it after several visits.  Then it just sat in the box waiting for it's turn to shine.  I think it was a perfect choice.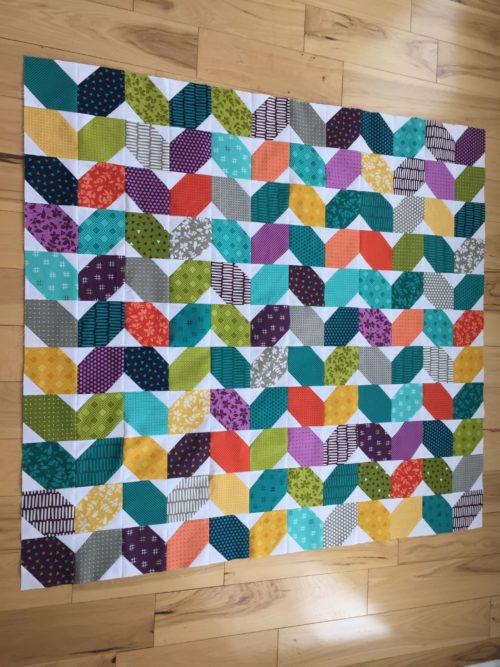 Of course, I had issues with the simple pattern.  Again I am having issues with my scant 1/4″ seams, so I needed to trim my blocks for consistency.  That meant losing some of the quilt size.  My blocks were trimmed to a perfect 4 1/2 square.  In my haste, when I was trimming them, the first few blocks I didn't trim consistently, so my seams didn't match up correctly.  So this is my imperfect, perfect quilt top.
Need to head off to find some backing for the top and get it completed.  Completing this quilt is my February One Monthly Goal.  Might be a tough one this month, since we will be on a road trip for a week or two.
Linking up with some friends today:
Confessions of a Fabric Addict – Whoop Whoop
Powered by Quilting – Friday Foto Fun